A British carmaker's debut in India, spy shots of the upcoming cars, and the Tata Harrier SUV's deliveries were the main highlights of the past week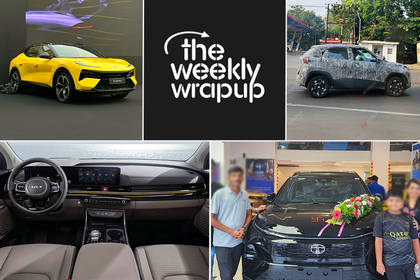 Last week provided us with confirmed details about the engine specifications of an upcoming hatchback in India, interior images of a premium MPV likely to be launched in India, patent images of Mahindra's pickup truck concept, and overall sales figures for cars in the month of October. Here's a look at the notable car news and updates from the past week.
Lotus Eletre Electric SUV Launched In India
British carmaker Lotus made its India debut with the Eletre electric SUV, prices for which start from Rs 2.55 crore (ex-showroom). It is offered in three broad variants with a 112kWh battery pack and mighty performance. You can head over to our story to know more details about it.
Suzuki Confirms New 1.2-Litre Petrol Engine For 2024 Swift
The 2024 Swift will be offered with a new 1.2-litre three-cylinder petrol engine, replacing the current four-cylinder unit. It makes its debut on the Japanese-spec model and is paired with a CVT. Recently, it was spotted testing on Indian roads and you can check our story to take a look at its spy shots.
Tata Punch EV Spotted Testing
The upcoming Tata Punch EV has been spotted testing. The EV has been in development for quite some time and previews the facelift of the petrol-powered Punch's design. Click here to get a clear view of the car's side and rear profile, as well as its expected pricing when launched.
Citroen C3 Aircross To Be Launched In Brazil With Powerful Engine
French carmaker Citroen will soon launch the C3 Aircross in Brazil with a more powerful engine than the one sold in India. The Brazilian car will be equipped with Stellantis' new engine, which is smaller in size. Click here to view its power figures and the differences compared to the India-spec C3 Aircross.
2024 Kia Carnival Interior Revealed
Interior of the upcoming 2024 Kia Carnival has been fully unveiled. It features a minimalist dashboard design with a dual-screen setup for the infotainment system and driver's display. Head over to our story to take a look at it and discover the new features when it launches in India.
Mahindra Scorpio N Pik Up Design Patented
The Mahindra Global Pik Up concept has been patented in India. This pickup truck concept is based on the Scorpio N SUV and was revealed at Mahindra's global event in South Africa. Click here to take a look at its design and find out more about its India launch details.
Lamborghini Revuelto To Be Launched On December 6
Lamborghini will launch the Revuelto supercar in India on December 6, 2023. It features a  sharp design, and it is powered by a 6.5-litre naturally aspirated V12 engine paired with three electric motors. Check out our story to learn more details about it, including its expected India pricing.
Tata Motors Commenced Deliveries Of The 2023 Harrier Facelift
Tata Motors has begun the deliveries for the 2023 Harrier facelift right in time for Diwali. It was officially launched on October 17 and features an updated design with plenty of new features. Head over to our story to know more details about it.
Mahindra Closes In On Tata Motors In Terms Of Overall Sales In October
October sales figures for four-wheelers are out, and Mahindra is closing in on Tata Motors in terms of overall sales for third spot. Mahindra's plans for ramping up production and festive season sales contribute to its overall sales figures. Click here to take a look at the margin by which Tata Motors secured the third spot in overall October sales.


Read More: Top Car News Of The Week: 2024 Maruti Suzuki Swift Spotted Testing, New 3-Cylinder Petrol Engine

2023-11-11 06:33:13