The third quarter is far enough behind us that some of the last few data points as to how consumers fared — at least from June to September, and at least in terms of what they spent online — are in.
The Census Bureau of the Department of Commerce announced Friday (Nov. 17) that seasonally adjusted eCommerce sales were $284.1 billion, an increase of 2.3% quarter over quarter. Total retail sales for the third quarter were estimated at $1.825 trillion, up 1.5% over the same time. eCommerce sales were 15.6% of the total retail sales tally.
We're playing a bit of catch-up, where eCommerce, as a percentage of the total sales, is a slight bump up from the 15.5% ratio seen in the second quarter, and where the third quarter of last year notched a 14.8% ratio.
PYMNTS Intelligence studied the continuing movement of eCommerce share as a percentage of retail sales and what the "projected" share would have been if the pandemic had not upended commerce itself beginning in 2020. The gap now stands at about 0.5%.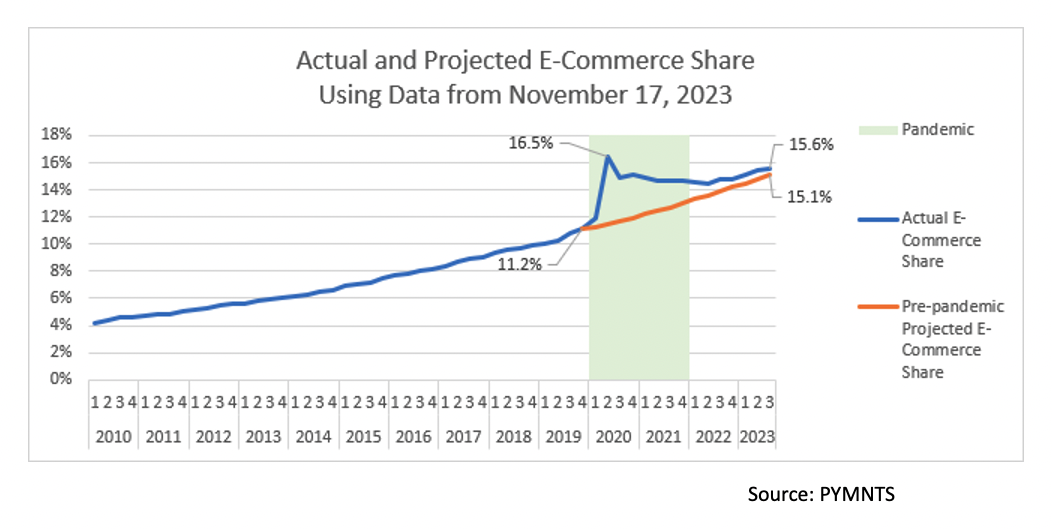 Headed into the darkest days of the pandemic, the outsized shift — where at the peak, online sales were 16.5% of the total — far outshone the low-double-digit percentage point contribution that would have been expected.
The Gap Is Narrowing
But if the gap is narrowing, then it might be argued that eCommerce sales have plateaued, especially as shoppers return to in-store channels to buy items like groceries (which did see retail sales gains in the October reading).
The third quarter overall "pie" grew by 1.5%, but the year-over-year trend has been slowing. For that metric, overall retail spending slowed to 2.3%, down from the 9.7% rate that had been seen a year ago.
The big question is what happens next. The early indications of fourth-quarter spending are less than sanguine. Walmart sounded a note of caution, as consumers feel the squeeze from carrying debt, paying down student loans and grappling with inflation.
Separately, the October retail sales data, notching the first decline in seven months, already spells some pressure for brick-and-mortar retail. The data from non-store retailers, a general proxy for online sales, showed that October grew 0.2% from September's levels. But September's non-store retail sales were significantly higher, as measured against August, up 1.4%.
The headwinds come right as consumers face one of the most stressful times of the year, as holiday events, celebrations and travel compete for share of wallet. Roughly 20% of consumers are mulling cutting back on nonessential spending this holiday season, and that might translate into less time spent on devices and websites looking for the next item to place in their online shopping carts.


Read More: Quarterly eCommerce Sales See Bump, but Will It Last?

2023-11-17 21:54:01