A Los Angeles man has shared his dad's reaction to discovering he used his credit card to sign up for a premium subscription to Grindr.
Jake Shane, 23, had never planned on his dad finding out the $20 charge was for the popular social networking and online dating application for LGBTQ+ people.
He told Newsweek: "I was talking to this really cute guy and I wanted to see if he read my messages, obviously. Unfortunately, reading receipts is part of Grindr's premium version, which, you guessed it, costs money."
"I honestly thought it would show up on my dad's bill at the end of the month as an Apple charge, but instead I was too dumb to realize my dad gets email receipts," Shane added. "He then got an email from Apple with the charge to Grindr."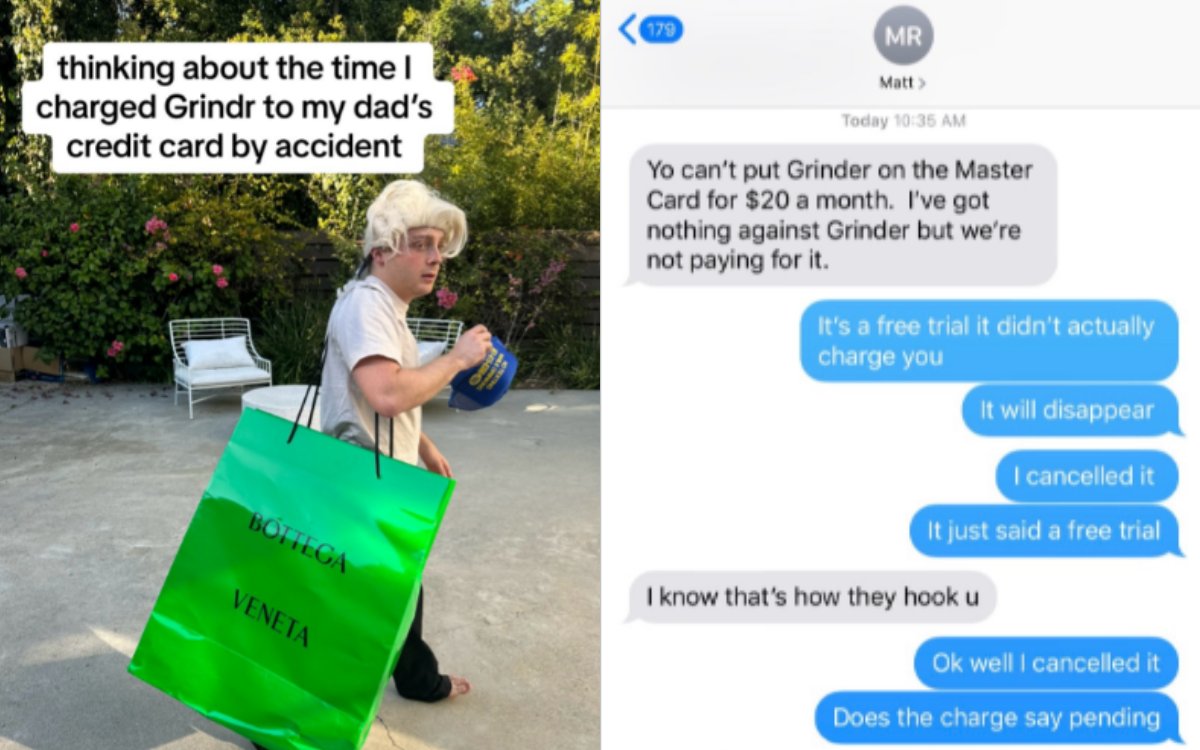 Given the current economic climate, it's perhaps unsurprising to hear that many young adults continue to seek financial support from their parents.
A poll of 2,000 Americans conducted by OnePoll on behalf of Chartway Credit Union found that 35 percent of young adults admit they still have at least one bill on their parents' tab.
According to the survey, the top three expenses still paid by parents are rent (19 percent), groceries (19 percent) and utilities (16 percent).
Shane said that he would often charge things to his dad's card "by accident," but that he has curbed this kind of behavior in recent times following this embarrassing incident.
In a series of screenshots posted to TikTok, Shane revealed his dad's stern reaction to discovering the charge.
"You can't just put $20 a month on the card like this," his dad wrote in an email. "You need to cancel, because you will forget and they will start billing the card automatically."
In a follow-up text message, Shane's dad explains: "I've got nothing against Grinder [sic] but we're not paying for it."
Shane responds that "it's just a free trial" and he "canceled it," with his dad replying "that's how they hook you" before adding "thank you" upon hearing the payments have been stopped.
Despite the embarrassing nature of it all, Shane was heartened by his dad's reaction to the discovery. "He was annoyed that I charged his card, but not with the contents of the app, which made it really endearing," Shane said. "He just wants me to be safe, and loves me no matter what."
While Shane said he posted the screenshots of the incident because he "thought it was funny." Many felt similar and were quick to jump upon the embarrassment of it all.
"I can literally feel your anxiety as I read your texts," one user said while another commented: "I would literally pass away from multiple organ failure after that."
However, others were full of praise for how his dad handled it."Pops was in PR mode," one joked, with another commending his "media training" when dealing with the situation. Others saw it in simpler terms, though, with one TikToker writing: "It's not PR him saying that, it's him loving his child."
Shane appeared to agree, taking to the comments section accompany the video to declare: "My dad is so perfect."
If you have a family dilemma or anecdote, let us know via life@newsweek.com. We can ask experts for advice, and your story could be featured on Newsweek.
Uncommon Knowledge
Newsweek is committed to challenging conventional wisdom and finding connections in the search for common ground.
Newsweek is committed to challenging conventional wisdom and finding connections in the search for common ground.


Read More: Dad Has 'Perfect' Response to Discovering Son Charged Grindr to Credit Card

2023-11-20 17:26:03